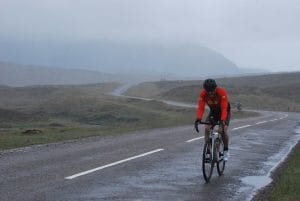 Last night we just stayed in the hotel for eats and drinks as no-one fancied battling with the midges again. It was good food and a good crack as usual livened further by a bat putting in an appearance. We've all seen birds trapped inside but never a bat!
It caused quite a stir and much hilarity as the staff chased it round the restaurant. Happily it was eventually released out of the doors unharmed to cheers from everyone.
This morning we awoke to fairly heavy rain and grim looking skies so we are expecting a soaking and lets face it, you ain't gonna have a week in Scotland without one,
After breakfast and packing the vans we set off for Dundonnel with the weather actually improving. The first inland section is tough and very up and down and this continues as we return to follow the coast round the sea lochs and bays.
Unlike on previous days where the vans have been jumping from passing place to passing place, this time Kerr and I can have a good look around at the scenery as we go and it's spectacular. At one hight point we look down on a clear turquoise sea surrounded by a stunning rugged landscape.
After a tough ride we all eventually arrive at Dundonnell for our lunch. There isn't a lot here so it's flapjacks and coffee from Kerr in the camper van.
It's a tough climb out of Dundonnel from sea level to to the top of the bleak glen and the weather turns nasty on the top with strond side winds and driving rain. Coxy at the front catches the worst of it, as do I getting the photos!
When Gibbo and Marty arrive we have our first mechanical as Marty has broken a spoke. There's not much he can do but duck tape the broken one to one of the others to stop it catching the frame but he'll need a proper repair… I check out for bike shops on Google but the nearest repair shop is 40 miles along tomorrow's route. Looks like he's getting in the van tomorrow…
But as we begin the decent we spot a couple of vans belong to another group. These are the type of professional outfits we see in the alps and they soon get Marty sorted.
The descent down into Ullapool is both long and thrilling for the lads and we all arrive in good time at the digs. It looks a great little place with fish and chips highly recommended so that's where we're headed next…