Andorra La Vella to Ribes de Fraser
A lovely sunny day as we leave Andorra and begin the long slow climb out and over into France via the Col de Puymorens. Yesterday's rough ride has taken it's toll on Steve's tyres a gets a blow out as we leave town. Once patched up he'll need to change his tyre at the top before the descent.
It's a tough climb up, ramping up towards the end as once again the storm clouds gather ahead.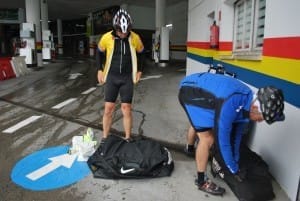 As we cross the summit and head down into France the heavy stuff starts and it's into a garage to fix Steve up and get the heavy weather gear on.
A stunning, if scary descent follows but the rain eases as we reach the bottom and the rendezvous point in Puigcerda. But where's Spenna he was out in front?!
We eat lunch and still no sign so I head back and find him still thinking he's waiting for us. He thought we were gonna stop in the town before we took the road round it, he went in.
So, I guide back on the right track and the chase is on to catch the lads on the next climb back into Spain and the digs at Ribes de Freser. It's a long one this and the descent is also very steady so it's we're late back to the site again. At least we can finally dry the tents out. Beautiful here now.