St Jean de Maurienne – Briancon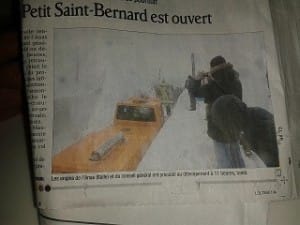 Today's route over the Col de Telegraph and Galibier is off as the giant Galibier is still closed so we decide on an alternative route over the Col de la Croix de Fer, down into Bourg d'Oisans where we stayed last year and then up and over the Col du Lautaret and into Briancon.
It's not the climb we planned but it's even tougher at 85 miles in total.
We head out of St Jean and the climb begins immediately in the already sweltering heat. Up and up we go until we come to a fork where both options point to the same point on our planned route. We are already strung out along the mountain and some of the lads take the wrong fork which turns out to be both longer and steeper. As a result when we arrive at the top Croix de Fer the leaders are 90 minutes ahead of those at the back.
The front runners press on down the fast and dangerous decent into Bourg d'Oisans with Marty hitting a top speed of 55mph.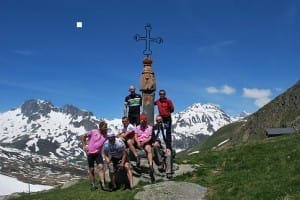 After waiting at the top for all the lads to arrive I then head down and find the front group finishing lunch in one of our old haunts in Oisans. It's great to be back!
Just after they leave for Briancon the second group arrive and I can press on knowing I now have the problem of supporting two teams on this leg.
Last year we drove this route to tackle the Col D'Izord as we were based in Oisans so we know how long and tough it's going to be but driving and cycling are two completely different things. And we'd forgotten about all the tunnels…
It's a steady and spectacular drive in a car or van but on a bike this is as tough a route as they come. The climb is steady but relentless and the tunnels are long and dark. This takes it's toll on new boy Graham and I am called back by the second group from the summit just as the leaders arrive.
As I head back down I lose the argument with a foul mouthed Italian truck driver who I meet in the middle of a tunnel and am forced to reverse back out. His was bigger than mine!
Time now is pressing and we have no choice but to shuttle the second group in the van from where I rescue Graham to the summit of Lautaret.
We all eventually arrive in Briancon and it's 10:00pm before we finally get dinner in town. Back then to the camp site where we spend an hour star gazing, talking nonsense and sharing Coxy's Woods 100. A tough day but what an adventure this is! And tomorrow's ride includes the Tunnel of Doom…