Guillestre – Barcelonnette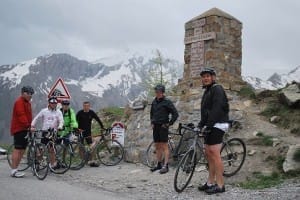 We had an interesting night last night in Guillestre. We found a lovely restaurant and most of the lads ordered Beuf Bourguignon puzzled why they had to pair up to do so and were given kebab forks. They soon found out when the plates arrived complete with diced RAW beef!
Basically you had to cook it yourself in the fondue style burners and after a few attempts the lads were cooking the beef to perfection.
We then went round to a local bar that looked lively and it was certainly different. The bar maid was tiddly and kept mixing up our orders and she got worse as time wore on. A guy pulls up in a car and practically falls out, staggers over to the bar and necks a few more and later drives off! Not much we could do about it I'm afraid.
Then some local lads started racing down the street on a trike type thing made from half a mountain bike. Next up was flute playing accompanied by a didgeridoo.
Next morning some of the lads who had been trying the local strong beer were suffering so the Col du Vars today is going to be tough.
And so it proves as the lads begin the ascent right at the start of today's route. It's another tough climb up to ski village of Vars 3km from the summit.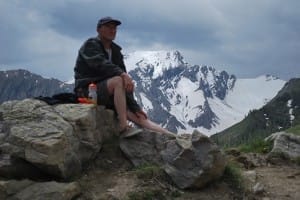 I have to wait for the stragglers too long at the midway point which means Steve and Spenna are at the top before me closely followed by Roly and Coxy. Bit of a change in the usual order that as the Captain regrets that last beer…
A few drops of rain start to hit us at the summit so the leading group head down the long 30km descent into Barcelonnette while I wait for the second group.
It's another awesome descent as I follow the lads down at speeds close to 50mph as we batter through another Alpine valley to the finish.
We get down just in time as a huge thunder crack rolls over the mountains behind us. We're certainly glad we're not up there now.
And tomorrow is the Donkey Derby….