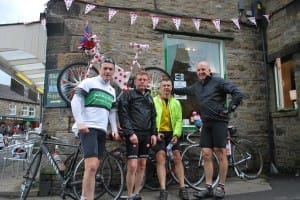 As everyone knows the Tour de France is coming to Yorkshire in July and to mark that the lads wanted to ride the first leg themselves or as much of it as possible.
We began our route in Skipton heading the 30 miles to Hawes via Kettlewell past Buckden Pike. The route is very up and down but the weather is holding for us and lads make good progress in tight peleton formation.
All along the route are signs that the Tour is coming with yellow painted bikes tied to posts, welcome banners and the inevitable 'Camp here for the Tour' signs from opportunistic local farmers.
After a pit stop in Hawes for tea and cakes the lads then head up the long ascent up Buttertubs. We've done this climb before but from the opposite direction and it is a little easier this time. Nonetheless it's tough going up to the top but then a great descent down the newly tarmacked road.
Buttertubs is going to be one of the highlights of the first leg of this year's Tour and you can bet this is where many of the spectators will head to see who takes first in the Mountain classification.
Next stop is Reeth before we again climb up out of Grinton to Leyburn. It's on this climb that the weather turns nasty, pouring rain and a cold wind. After getting a good soaking the lads arrive in Leyburn where I leave them.
They are going on to Harrogate to stay overnight and will then ride back to the Boro tomorrow.
At nearly 100 miles (with 60+ more tomorrow) this is a good work out ahead of this year's trip to Bormio in June.
More Pics