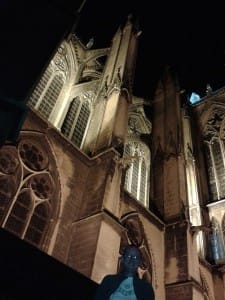 The journey down was eventful as usual and after an early start Ade and I were soon at the Channel Tunnel. Straight through on an earlier train…or so we thought…
We'd bought our usual ticket and were right through to the exit gate in the van when a jobsworth at the exit decided we had the wrong ticket. The van was above the 1.8 meter hight limit for general vehicles and this idiot decided we had to go all the way back to sort it!
That's back through passport control, the police check, the lot… we'd already been searched once so to go back through again would probably have meant the full rubber glove treatment!
Ade took the matter up with another of the security team and his diplomacy got us through.
A different route for us through France got us to Metz in plenty of time for the opening of the World Cup. After a fantastic meal we sat out the match outside a bar adjacent to the ancient Metz cathedral.
The Sat Nav told us we only had 6 hours to do the next day so after we'd called in to the supermarket for beers for the lads we set off at 9:30 for what we thought would be an easy run down to Bormio.
We passed in to Switzerland after being stung 40 Euros for their road tax and headed down the spectacular route to the Italian border… and then we hit the first of the mountain passes…
To cut a long story short we had to cross four in total including the Stelvio and we didn't hit camp until 6 pm some 3 hours late.
The lads also had a long 3 hours journey from the airport so didn't arrive much before we did.
The site and cabins are great but we're a long way out of town so we stayed put and had a meal at the site restaurant. We then watched the match until half-time in the bar. We watched the second half with the Dutch party who are in the next cabins hoping to wind them up. No luck there… 5 – 1 to Holland against Spain!!
Let's hope England can do the same tomorrow or we won't here the end of it from the Orange boys…