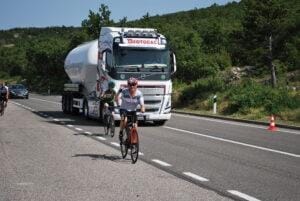 An early start today. In this heat, we want to be away by 9am but it's muggy and hot at 6am when I get up. 31 degrees at 8am as we have breakfast! This is going to be torture. 120km to do today which is about 75 miles.
We get away on time and traverse the city easily enough. The satnav puts me on the motorway at first but this is fine as I know I need to come off and head for Crikvenika and get on the E65 which is the route the lads will be on.
I get there ahead of the lads but am surprised this is the route they'll be traveling. Not dual carriageway but very busy with loads of lorries, etc.
It's the only route though, so 'it is what is'. Finally, I get some photos! Not good ones though. I have to take them from my side of the road which means the sea is behind me and the views are fantastic across to the peninsular opposite.
We're following the coast all the way though, so I'll have plenty of opportunities to get some better ones, right? So I thought…
We rendezvous at Crikvenika ok and push on to the lunch stop. I don't know where this is yet. Coxy, who is well ahead, is going to find a good spot and let us know.
After the lads have left, I push on to chase down Coxy. It's a spectacular road hugging the coast but that means dropping down into the bays and climbing back out again. This is going to be a killer for the lads in this heat!
Not long after I leave Crikvenika, I hit a long traffic jam. Takes me 40 minutes to get through and all the lads on bikes pass me stuck in the chaos. Coxy lets me know the lunch spot, just as I get going again, so I push on to meet him passing the lads on the way.
I get to Coxy just after 12 o'clock and he's picked a good one. It's a campsite with a bar/restaurant right on the road and heavily signed so you can't miss it. Perfect. This is going to be a good day…
And then the fun starts…
Ade calls in. He's really struggling in this heat and on the point of 'bonking'. It's a cycling term and not what you might think. It means you're literally exhausted and about to pass out. So, sensibly, he's stopped, called in and I go back for him. But where is he?…
The names of places here are all but impossible for us to pronounce so when someone says where they are, it's open to interpretation.
Needless to say, I miss him and go miles back in the wrong direction before turning back and find him just a couple of km from our lunch spot.
That's the first one in the van…
Eventually, all the lads arrive at the stop and we have lunch but they are all struggling. There's a big climb to come, about 10km out, so Johnny, Doggy, Ade and Jeffers are going to jump in the van to the top of that climb.
Four in the van, plus me… how does that work?
We could shuttle it. Two at a time. Take two up, then I go back for the other two. But no, it's two in the front with me, two in the back with the bags. In the front, aircon… in the back, microwave!
We crack on to the top of the climb but on the way, there's a tricky right turn that no-one was expecting so this could lead to problems…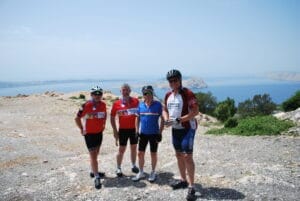 With the detour for Ade, I fail to catch Coxy before he's over the summit but I drop all the passengers off so they can continue. I'll wait for Marty, Roly, Steve and Spenna.
Not Spenna though… already called in. Can't carry on. After just 2km after the lunch stop, he's done and does the right thing and stops.
At the summit, Roly catches up with the van lads before they set off so, on my way back down to get Spenna, I should pass Marty and Steve. (I hope you're keeping up, lol?)
Going back down, I pass Marty coming the other way. Tick.
I keep going and eventually get to where Spenna is. I haven't passed Steve. Remember that tricky right turn?…
We call Steve and, sure enough, he missed that turn, headed inland, up a much tougher climb, and is on the point of collapse. So, we chase up after him and get back on the right road to the ferry terminal.
The other lads are already boarding the 4.30pm ferry but there's no way we'll make it, so it's the 6pm one for us.
After a bit of a mix-up with the ticketing system, we make the crossing and get to the hotel around 7pm. And what a spot! Bar right on the marina. I've never written the blog from a better spot!
A long, hot, dramatic day ends well! And, hats off to Coxy, Roly and Marty as the only riders to complete the full ride.