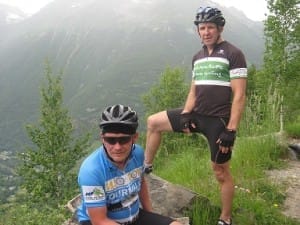 It was supposed to be a rest day today but some of the lads wanted to go up to the Balcony which is a spectacular pass off the Alpe D'Huez.
The aim is to climb up via a different route beginning the climb at the Bge du Verney the lads passed yesterday. It's then along the Balcony and back to the Alpe D'Huez for a descent beginning 4km from the summit.
It's another tough climb up but the views are spectacular and well worth it with huge eagles rising rapidly on the thermals as an added bonus. The descent is just as spectacular as the lads fly down the switchbacks.
An easy day for me and right now I'm about to be spoiled rotten as Blue prepares his signature dish of Italian meat balls. But I did find time to get out on the spare bike!…