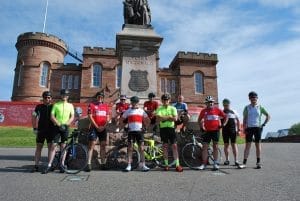 An early start this morning to unload the van and assemble the bikes so it's a good job last orders last night was at 10:15pm!
We get away in good time and head out of Inverness towards the first rendevous in Muir of Ord. The weather is good, fine and dry with very little wind.
It's relatively flat for this first stage and the lads soon arrive in peleton formation and carry on past me so I set off after them. A few miles down the road and the NC500 forks in two directions so I follow the satnav left and carry on a few more miles but no sign of the lads. Someone's took a wrong turning!
I push on to our lunch stop at Achasheen where I meet up with Kerr in the campervan. (What a machine btw it's huge!) It's a beautiful spot but our peace is shattered by two Typhoon fighter jets roaring through the glens.
After the lads have had lunch we decend to Lochcarron, passing several picturesque lochs on the way. It's a good descent but that means a climb back out. And it's quite a tough one so Kerr waits at the top for the backmarkers.
We eventually all meet up at the foot of the Bealach na Ba the main event of the day. This is a famous single track road over to Applecross and looks very reminicent of Alpine climbs we've done in the past.
I set off first to avoid tangling with the riders on the way up and Kerr brings up the rear. It's a niggly drive up for me jumping from passing place to passing place and trying to negotiate past other cyclists but I eventually make it and wait for the guys struggling up the tough climb.
It's very steep in places with alpine style switch back at the top but who will be first up?…
It's obviously no surprise that Coxy makes it up first and in a really good time of 36:27. What an effort!
But who will take second… a rider comes round with the corner with an unmistakable shock of blond hair…It's Marty!! Clearly he's been doing some secret lockdown training.
Next up is Roly then Spenna, closely followed by Gibbo and Ade. Finally Chucky and Rozza. Johnny, Doggy and Paul sat out the final climb and came over in the campervan but what a great effort from them with over 70 miles under their belts.
All in all a great first day. We're now at the campsite, the tents are up and we've got seats booked in the local pub for later…