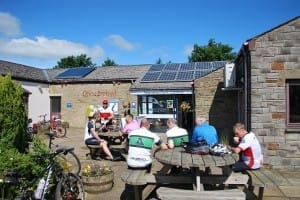 After the gruelling run through Kielder Forest yesterday the lads aren't exactly looking forward to today's first leg, through Wark Forest to Once Brewed which is next to Twice Brewed. The story goes that locals complained about the weak beer had made the landlord brew it again…
There isn't even a pub at Once Brewed, just a Hadrian's Wall visitor centre. Either way I don't get there before I get a call from Steve E. He's stuck just outside Bellingham after suffering his third puncture. When we got his bike out this morning he had a flat but this must be something more serious. The bike shop in Bellingham can't help so I head back to pick him up and we once again head for Once Brewed just as the advance party get there.
It's been another tough slog and the rest of the lads troupe in over the next hour. Next stop Corbridge and I find the advance party already in residence in the Wheatchief pub watching the Tour de France time trial.
It's now a couple more hours before everyone arrives as some as stopped at various watering holes along the route. During the wait I'm shown a hilarious video of one of the lads coming a cropper while crossing a ford. I'll get the video up when I get back to the Boro.
I'm now sitting in the hotel waiting for the lads to arrive. Any of them! Even the advance party haven't got in yet. Fog on the Tyne tonight, allright!
Eventually all the lads arrive and the more adventurous of us head into the Toon and the bedlam of the Bigg Market.