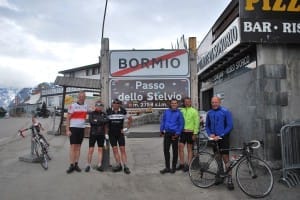 Today is the day we tackle the giant Stelvio Pass… and we do it twice!
The pass begins immediately you leave Bormio and first we tackle the southern side, 40 switchbacks on this one!
I pull over as usual a third of the way up in a spectacular spot. The sun is shining and I'm surrounded on all sides by snow capped mountain peaks but even here the breeze is chilly as I wait for the lads to arrive.
Spenna and Coxy arrive first followed by Steve and Ade then Marty, Johnno and Johnny G. Blue and Colmer bring up the rear and this is the last time I'll see these two today as they are only tackling this side of the pass.
The main group are taking a left near the summit to descend the Umbrail Pass into Switzerland and come round the back of the Stelvio and do it again from the northern side!
I race up to meet the front runners at the turn off going past the most powerful and impressive waterfall I've ever seen. No surprise to find a hydro-electric station that could probably power a city!
We rendezvous at the turn off and it's bitterly cold despite the bright sunshine and head down the Umbrail pass which is one of the greatest descents ever. This is already shaping up to be one of the great days.
At the bottom of the pass we turn right at Santa Maria re-enter Italy and have lunch in Prato alto Stelvio at the bottom of the northern side of the Stelvio Pass. Now we tackle the harder side…
This time it's even steeper and there are 48 switchbacks!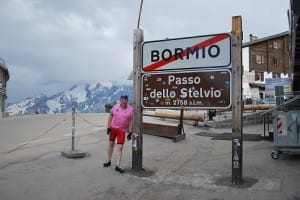 What a grind up it is for the lads as they push on relentlessly for the summit. This is a two and half hour climb for the front runners and four for the back markers so we know it's gonna be a late one.
And so it proves. Spenna gets up first followed closely by Coxy. Next are Steve, Ade, Marty and Johnno with Johnny G bringing up the rear.
Another spectacular descent back in to Bormio and I even pick up an Italian puncture victim on the way down. Good Samaritan time… actually I'd forgotten the footie… otherwise…
Still they might have beaten us at football but their mountains won't defeat the Coastbusters!!