Time to go sight seeing today and the best way is by the open top bus. After all they'll take you to the best sights and you can hop on and off, so after morning coffees we set off….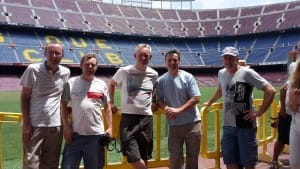 We opt for the orange route first which covers the west of the city and the Nou Camp. On route you climb quite high out of the city and get great views over it.
We get off at the Nou Camp and take the tour. Well worth it. You get from way up in the press box to pitch side, see the trophies, museum and dressing rooms.
Then it's back to the city centre for a beer and on to the green East route.
This takes in Gaudi's famous Sagrada Familiar.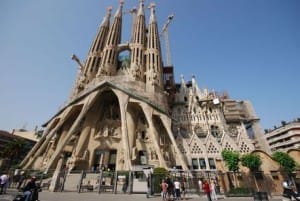 You also see many of the other buildings he designed.
This route also takes in the Olympic Park and beaches.
A great day out! A few beers tonight and an early start for us all in the morning as we head back to the Boro.
Once again, a great trip!!!
Thanks to Coxy for organising, Ade for helping with the driving and the rest of the lads for being great company.
And thanks to Barcelona for being such a brilliant place with really nice people!