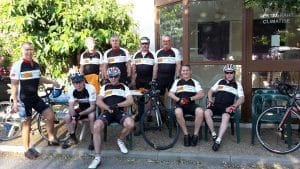 Well we're here at last! The start of this year's bike trip.
Ade and I had a good run down through France on Tuesday making it as far as Dijon. We found digs right in the centre and had a lively evening… trapped in a bar by torrential rain at one point.
That left us with only a four hour run yesterday into Avignon and we got to the hotel just a bit before the lads arrived.
We're soon sorted and it's off into town for eats and a few beers. There's a carnival on so it's packed and we had a lively evening but not too late as it's an early start this morning.
The original plan was for Coxy to take the van up Mont Ventoux last night but the roads were already closed so the lads will need to make the journey unsupported and carry everything they need.
They set off at 7:30 this morning so I assume they are now on the climb. It should be pretty spectacular up there as there will be thousands of spectators plus the whole Tour Carnival thing. We've heard that strong winds are forecast and there are rumours that the stage will not be going as far as the summit. Too dangerous! Hope the lads will be ok…
I'll post the pictures of their adventures tomorrow as they won't be getting back here until quite late this evening. I'm just gonna hang around here at the hotel and watch the race on TV, hoping I don't get a call for rescue…