Thonon les Baines – Le Grand Bornand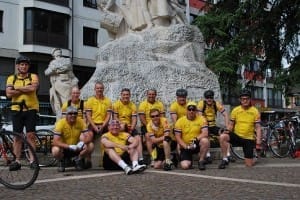 The lads arrived 2 hours late last night so we weren't exactly in bed early but we're up bright an early to unpack the van and assemble the bikes. We set out from Thonon at 9:30 picking up the start of the GR5 near the train station.
Heading out of town, new boy, Graham manages to get lost but I soon put him right and we begin the long steady climb up to Morzine and then Les Gets. It's tough work for the lads in the hot sun but high above us low cloud over the mountain tops looks ominous as we are heading up even higher.
But first the long descent from Les Gets to Cluses. After lunch the lads head down as I try to chase after them. As usual I fail to catch the fast descenders and we thread our way through Cluses to the start of the big climb of the day, the Col de la Colombiere.
The rain begins almost straight away and gets heavier and heavier as we climb up the switchbacks. The rain is now driving hard and it's bitterly cold as we climb into the snow capped peaks. No great views today!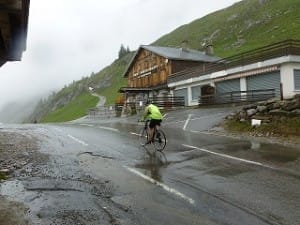 Eventually the front runners reach the summit but there's no respite here. The bar / restaurant is closed and there's no other shelter from the torrential downpour.
No group summit photo today as the lads have no choice but to begin the dangerous descent immediately. I wait at the top until all are safely passed and then follow them down through the beautiful valley to Le Grand Bornand, an Alpine Ski resort.
We pitch tents in the rain and we are all set for a good meal and a few beers. Do we envy the lads who are staying in hotels for the trip? Not a bit… this is hardcore… just how we like it!