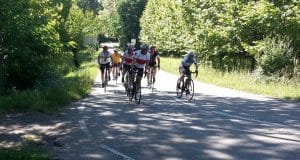 It's another scorcher as the lads set out on the 75 mile loop out to Olot and back but first we have to negotiate Girona avoiding the major roads. The lads find it relatively easy and are soon are on the right road up.
Not so easy for me as the sat nav puts me on the motorway and it's a toll road. Tolls are a problem over here if you're on your own as the machines are on the wrong side for a right hand drive van. So I have to jump out and run round to grab the ticket. I'm only on the motorway for 1 junction and then it's off again but now I have to jump out again to pay. I put the ticket in and there's no charge! What was that all about!
Anyway I eventually get on the right road and meet the lads at Les Planza and we then push on to Olot. We only skirt this and then climb up to Santa Pau for lunch. It's another lovely village but there's only sandwiches on offer in the bar.
We now run on downhill past Banyoles and back to negotiate Girona again. Again the sat nav guides me home but I can tell from all the various exits into Girona that I pass before I turn off that the lads are gonna have some fun.
Sure enough I get the first call five minutes after I get back from Gibbo who's with the bulk of the team in Girona.
They are lost near the big cathedral which of course means nothing to me as I've never actually been through Girona yet so I head out hoping to find them. I then get a call from Ade. Him and John are also lost but are at place call Celra so I set the sat vav for that.
On route I pass the bulk of the lads who are now on the right road. I pick up Ade and John and we head back for home.
We get back in time to catch the end of the Tour and are just chilling now. Not sure what we're doing later. There's not much in Quart and we struggled for eats last night. No problem tonight as Spenna is doing a curry. We'll probably just end up in Bar Gigi again later….
(PS. I forget to put the camera in the van this morning so not many pics.)