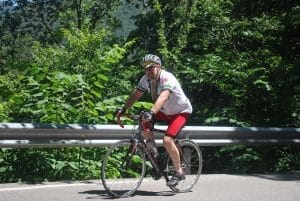 Today's ride is a long 75 miles out through Girona to Angles then across to Sant Hilari via Osor and the back via St Colona, Sils and Caldes de Mallavella.
The heat is already rising as we set off through Girona and on to Angles. Coxy has told me to take a right here which is off the route and wait and a place called El Pasteral. He has a surprise…
I get there and there's nothing here of interest so what's the crack? Turns out there's a cycle track over the mountains, past a large reservoir and spectacular scenery and then down into Osor. The lads take this while I go back around the road to Osor.
It's well worth the effort and lads enjoy some great views and a tough climb and good decent and we meet back up at Osor. It's then onto the Sant Hilari climb and lunch. It's a very tough climb in the heat and even the subsequent downhill seems to have too much uphill!
It's then a great decent down to St Colona and I assume I'm chasing the lads down and wait further down the road. There's no sign of them so I head on to Sils and wait there. They turn up shortly after as they had taken a brief wrong turn coming down.
It should now be an easy peasy 12 miles back to the digs but Ade gets a puncture and him and Johnny G decide enough is enough in this heat (100+ degrees) and jump in the van for the ride back.
We get back to the digs around 5:30 and I think, well that was a pretty straight forward day…
Then the mobile rings… It's Gibbo…can I come and pick them? Errr… where are you? They're in Lloret de Mar!!! That's 20 miles on the coast in the wrong direction. You're having a laugh I thought. This has to be a wind up.
But no, they got lost trying to find the road to Caldes de Mallavella and ended up going in the opposite direction. Too far to cycle back now so I head off to get them.
It doesn't take too long to get there but when I do there are only three of them, Spenna, Marty and Gibbo. Coxy, Steve and Roly have pressed on. They've already done 70 miles and are now doing the route back we did yesterday only via Tossa de Mar.
We're all now expecting them back really late but they turn up only half an hour after I get back from picking the Gibbo group up.
A really good effort and over 100 miles in total for the hard core group. And that's a first 100 + for Roly.
PS. Howard had a day off today. A well earned rest for the big fella. He's done exceptionally well on this trip, getting up Mont Ventoux and coping with the heat and distances of the other rides.
Don't forget Howard is raising funds for the South Cleveland Heart Fund and you can donate via his JustGiving page here