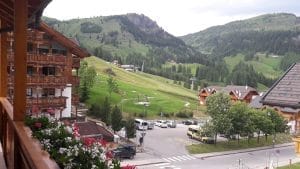 An early start for us all this morning. Met outside the Cora at 3:30am!
An uneventful journey to Leeds, flight was on time and a great short flight of just 2 hours. Red hot in Venice, probably mid 30s and we pick up the hire van and load up without a hitch. Me and Ade set off and the rest of the lads are in a separate minivan.
We make good progress for the first half of the 120 mile journey but then take a left into the Dolomites proper. It's now the best part of a 2 hour slog up and down half a dozen passes some of which we will be cycling along over the next couple of days.
The ski resort of Arabba is fabulous and in a spectacular location. We're staying in apartments in a typical looking Alpine ski chalet.
Most of the lads have set out on a quick climb up the local pass and I missed them setting off so no photo at the moment. I'll add one later if I can catch them coming back. Also just got my phone for photos at the moment. We'll be better organised tomorrow when the rides start properly so I should be able to add many more pics as usual.
I'll also add the some to Facebook during the days as we now have free data roaming so I can post from the mountain tops!! (signal permitting of course 🙂 )