Col de la Morte and Col d'Ornon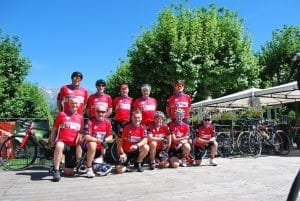 Up at a reasonable time this morning so the lads can assemble their bikes and get ready for the off at 10:30.
It's actually quite cool early on as the sun takes time to get above the massive mountains surrounding our campsite on all sides but we know this is not going to last…
We get away in good time and head back down the road we came in on yesterday towards Grenoble and I wait at the turn off for the Col de la Morte.
It's one of those slightly tricky ones where you come off right to go left so it's best I wait make sure no-one messes up.I'm not there long and soon spy a red shirt in the distance… one of ours… so I line up the camera ready and test out Coxy's new zoom lense (very high powered)…in I zoom… and wait…it can't be… it's Johnny G at the front and no sign of anyone close!
Now Johnny's been talking a lot lately about those new fangled electric powered bikes… has he sneaked one in for this trip?…
I give him a grilling but it turns out Roly got a flat a few miles back so the rest of the lads stopped to help… while Johnny sailed past gaining vital minutes for the climb ahead. Out of order!
We start the climb proper and the heat rises with every kilometer and I stop at the half way mark to get some photos and make sure everyone is ok. We have 3 new lads on this trip so we need to make sure they are doing well.
There's no problems at this point but already the lads take on extra water and push on to the summit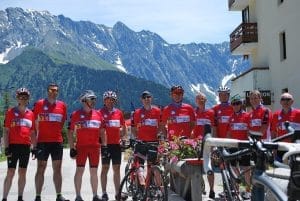 I just about get up there before Coxy and Roly is close behind. Next up is Ian…one of the new lads so no worries with this fella!
The rest of the lads are not far behind so after a brief pause we push on down the descent. It's another corker and better yet I manage to catch and overtake all of them. That doesn't happen very often but to be fair there were quite a lot of long flatter stretches where I could put the hammer down.
We stop in Entraigues for lunch for the usual hands up session. We're all embarrasingly bad at French so the waitress has to go slowly through the menu and get those who want item A, etc to put their hands up. And every time they then bring out item C nobody owns up to ordering it!
After lunch it's another narly climb up the Col d'Ornon and now it's really getting hot. The gradient isn't steep but the heat is a killer. Everyone eventually makes it and it's now time for the descent.
We've done some of this before but not right from the top and it's even better than I remember.
So, it's back to the digs…. except Coxy has a surprise in store… another climb… it's up behind the huge cliff we look at from the campsite and then over the top and down. But you can't get a van over the top so I return to the digs.
As I type this they're still not back but they could well have decided to get eats first. I'll add an update on how they got on later if I have time….