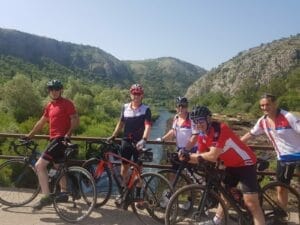 We've saved the best till last with today's route, it's the longest and with the toughest climbs. However, when it was planned, back at home, no one knew there would be a heatwave over here.
Whilst all the lads wanted to do the last leg, we agreed last night that it would not be sensible to shuttle the lads to the top of each climb in the van as this would eventually mean that the riders at the front would get no support.
So, Johnny G, Spenna, Doggy and Jeffers would sit this one out and get a taxi straight to Dubrovnik.
That leaves Coxy, Roly, Marty, Steve and Ade as today's riders.
I load the van with fresh bottles of water from the supermarket opposite as we've heard the water can be dodgy in Mostar. 24, two-litre bottles in total.
The lads get on the road for 9am and I hang back so that the taxi crew can pack their bikes away and load them onto the van. No more riding for them.
I get away about 9.30am and set off down through the valley to chase down the lads. The first climb is at around the 20km mark so I should catch them before that and be able to support them as they go up.
However, as I reach the climb, I still haven't passed them so I head up assuming I'll pass them as I go. When I reach the top, there's still no sign, so I know something has gone wrong. Back down I go…
Sure enough, as I get towards the bottom, I pass Coxy who is now on his way up. Earlier, their route had taken them off-road onto a cycle track so I missed them!
I turn around and head back up but Steve and Ade are struggling in the 40-degree heat and decide, enough is enough, and jump in the van.
We arrange to meet the remaining riders further down the road at Stolac and push on. At Stolic, we see Coxy at a cafe and pull over. We know Marty and Roly won't be long as we had just passed them on the road.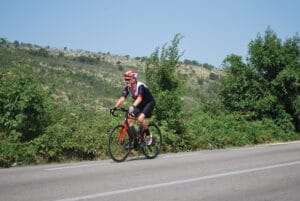 However, after 10 minutes or so they don't show up so we conclude that their bike Satnavs (Garmins) have taken them a different way around the town. That's ok, we'll catch them up soon enough…
Minor hiccups so far… but from here… it really goes tits up!..
(You may remember from yesterday that in Bosnia we have no data roaming, so no Google Maps, or so we thought. Well yesterday, Google Maps worked fine after we entered Bosnia and all the way to Mostar. The route was already loaded you see, so it will work.)
In Stolac, after we stop for refreshments, I agree with Coxy about where we'll meet next and try to add that as a stop to Google Maps, on my already preloaded route to Dubrovnik, but it freezes and won't map a route… any route. So now the van has no satnav…
We also find that, when we tried to reach Marty and Roly, we have no phone signal. So now we can't contact each other…
Ok, we'll do it the old-fashioned way. We have a road map, we have road signs and I have Ade and Steve to help.
The riders have their Garmins so we are good to go. We push on in the van hoping to shortly catch Marty and Roly whilst Coxy chases after us…
We go up and over the second big climb and have still not caught them up, so we push on…
The road at this point is a bit rough but fine with 2 lanes so no issues. But as we sweep around a corner we merge onto a new road. Still just 2 lanes but much more of a highway-type feel. Slick new tarmac, crisp lines, and road signs pointing to Neum and Dubrovnik so we carry on. This road is NOT on our map…
Shortly after, we reach Marty and Roly turning back. They say we need to be on a much smaller, single-track road that is parallel to ours and weaving through the forest next to us. Fine…we'll get on to that…except you can't at this point…the new road has blocked our access to it!
The riders can get on to that smaller road, though, so they do and push on. Coxy hasn't caught us yet but we assume he'll do the same. We have no choice but to continue on the new road and hope we can cut across further along.
About 10 km further down we take a left off the new road and hope to pick up the small road using Jeffer's Garmin which we have in the van.
Eventually, the Garmin picks up the preloaded cycle route and we carry on down it. It's very winding and narrow meaning it's a slow, torturous journey but as the Garmin says we're on the right route we push on.
On roads like these, that wind backward and forwards, it's very easy to lose all sense of direction and, as you've probably already guessed, we end up right back where we left Marty and Roly!
To paraphrase Eric Morecombe, yes, we were on the right route… but we weren't necessarily going the right way!
Now we are lost. No Satnav, no phone, and a road that isn't on our map, blocking access to the one that is. We've no idea where Coxy is as we've not seen him since Stolac and Marty and Roly are somewhere off to our left unsupported.
We make the only call we can. We'll push on down the new road to Neum on the coast, then cross the border back into Croatia and head for Dubrovnik hoping to pick up the lads as they exit the mountain roads onto our coast road.
It's a long way round for us then, as this means a significant dog leg out of our original way.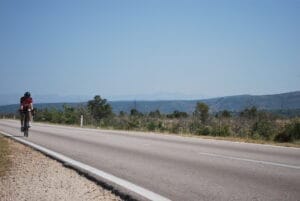 We push on as fast as we can on the new road but soon see a cyclist up ahead which you wouldn't expect on a road like this. It's Coxy!
At a different point on the smaller-road, original route he'd been put onto the new road and was riding it down, hoping to reconnect with the old road.
He has no option but to jump in the van with us… but the front of the van is full already so he has to go in the back. In this heat! And there's a border coming up… what are they going to make of that!
We eventually get to Neum and stop to take stock and decide what to do. Neum is the only coastal town in Bosnia. It's a port town that splits Croatia in two with Split off to the right and Dubrovnik off to the left. It's known as the Neum Corridor.
Coxy will now ride the corridor and pass through the border on his own while we follow in the van. We hear from Marty that he and Roly have now found the right route and will carry on, on their own.
We shortly get to the border but there's a long queue for cars, vans, etc. but Coxy easily gets through and pushes on ahead of us.
We eventually get through and should catch him soon enough after leaving the border. Unfortunately, a few miles down the road, there are roadworks that hold us up for another half an hour, so Coxy could well reach the digs before us.
However, we soon realise that won't happen when get on the coastal road proper. It's all gnarly climbs, in and out of bays, and would be tough at any time, especially in this heat. But Coxy has already done over 100 miles and he will be struggling.
We eventually catch up with him and he's on his last legs so jumps in the back of the van again.
We push on to the digs and pack the bikes ready for tomorrow. Marty and Roly are not too long behind us so we can now all go out this evening and explore the city. It looks fantastic!
Edit: So what happened to Marty and Roly?
Remember, they managed to stick to the planned route but could only do this by lugging their bikes through the forest to find the old road.
Then they found the road blocked to vehicles and ended up on dirt tracks. No way could I have got the van through there.
There's a reason for this. Those dirt tracks cross the border from Bosnia into Croatia and you are not supposed to use them. There is no border check and you are therefore entering Croatia illegally if you enter that way!
You are supposed to use the new road and go down to Neum and then enter Croatia via the Neum corridor.
As we left Croatia the next day, at the airport, both lads got stopped and had to explain how they had left Bosnia and entered Croatia as their passports were not stamped correctly!
After some discussion with the border guards, they were eventually allowed into the departure lounge and onto the plane.
Once again, it's the end of another great trip!
Thanks to all the lads for their many contributions and efforts.