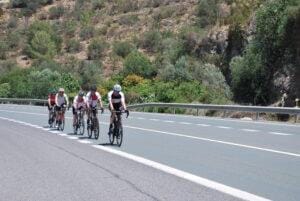 We're on the move today, travelling down to the coast at Almunecar so everything has to be packed up again before we go.
The journey is around 50 miles but it's mainly downhill so no need for an early start and we agree to load the van at 10.30 for an 11 o'clock start.
Everything goes smoothly and we are away on time.
This is going to be one of those days where the lads cycle on the smaller B roads and the sat nav puts me on the A roads and motorways so I may not see a lot of them.
We arrange to meet up first at Padul where we were a couple of days ago and I get down there in 20 minutes and park up and wait.
After about an hour the main group reach me but there are two missing. Marty needed a spoke fixing so he has to find a bike shop and Roly has kindly agreed to stay with him.
I carry further on down the road to Durcal and again they main group pass me and we agree that I wait here for Marty and Roly in case they have any problems.
They don't and turn up 20 minutes later so we can all push on to meet the lads who have stopped for lunch at Talara.
We soon get there and then everyone sets off together after lunch.
At this point we're not sure where I'll meet them again so I head for La Bernardillo which looks to be on their route.
It's a spectacular ride down through the valley for me but is going to be tough for lads as there is very strong head wind.
As  I continue down the motorway I see some cyclists crossing over the bridge ahead as I go under. It's them! They haven't gone wrong it's just their windy little road criss-crosses the main road I'm on.
I get to La Bernardillo in good time but am not sure which road the lads will come from at the junction I'm waiting at.
But they arrive on the same road I came on as I'd also now left the motorway. All good.
I now head straight for the hotel while the lads follow on, on the smaller roads to get to the end.
The last part, where we turn right at the coast and then go along the coast road proves tough for the lads as it's up and down through various coves and villages but everyone gets here without any problems.
It looks a great hotel on a little square right be the sea so we are looking forward to exploring the area later this evening