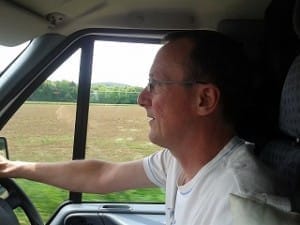 A nice late start today for Ade and I as we begin the final leg to Thonon after breakfast. After Dijon we decide to abandon the motorways and head across country into Switzerland.
This way we can do a bit over the mountains and then hit Lake Geneva at Nyon, a Swizz Town on the opposite side of the the lake from Thonon.
We get stopped at the border by the Swiss Police but luckily they didn't want us to empty the van.
It's a pretty spectacular climb up and the view from the top is impressive with Lake Geneva down below us and the French Alps as a high rocky backdrop. The weather is very warm but muggy and hazy so the view is not as good as it could be.
No matter we head down and drive along the lakeside to Geneva which is also impressive with loads of yachts and expensive lakeside houses and hotels.
We stop between Geneva and Thonon for lunch and find a Carrafour where we can get gas, etc for the cooker. So, that's all outstanding tasks sorted.
At the hotel now and the pool looks tempting… so does the bar… the lads don't arrive until 9.00pm… (edit just found out the lads flight is delayed by 2 hours so we might not see them until tomorrow.)