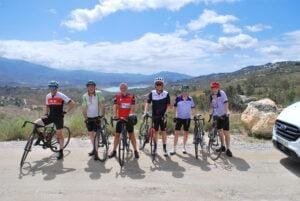 It's our last day of riding today and there's always a bit of apprehension as we know at the end that we'll have to traverse a major city, in this case Malaga.
We make an early start and get away by 9.30am. I hang back to give the lads a bit of start up the first small climb.
I'm glad I did because as I get to the top I see the lads turn left when my sat nav says right!
Obviously I follow the lads and then wait to take pictures further down the road.
It's a tough climb up to Ventas then a brilliant descent down to the large lake at Los Romanes. It's a stunning outlook over the lake as you can in the pic above.
We stop at a cafe further down the road for some eats but it's closed so we decide to continue on to Colmenar.
We can see a road off to the left down below, that they'll be using, but it looks like a dirt track to me so I'll stay on the main road and take the long way round.
We meet up for lunch at Colmenar and it turns out the road we saw from the cafe wasn't their road, their's was another one and it was as smooth as silk.
Oh well on we go…
We now have another 6 mile climb to do out of Colmenar so I push on and wait for the lads at the top.
They all arrive reasonably close together and we are now on the spectacular descent into Malaga. And so it proves, simply stunning.
We regroup at the bottom but still have 13km to go. Our hotel is on the far side of Malaga, booked so we are close to the airport for tomorrow's journey home.
What can I say, it all went like clockwork. I went out onto the motorway and round and lads threaded their way through town. We arrived within 10 minutes of each other!
Special mention today to John who completed the whole ride. A brilliant effort!
So, that's it for another year and yet another fantastic trip!
Thanks to Coxy for organising, Ade and Spenna for booking some brilliant digs and the rest of the lads for their efforts and company!