Date: Saturday 2nd July
Route: Avignon to Arles
Distance: 49 km
Staying: Camping L'Arlesienne
Blog Post: Avignon – Arles
Comments: Arles is a city and commune in the south of France. The city has a long history, and was of considerable importance in the Roman province of Gallia Narbonensis.
The Romans took the town in 123 BC and expanded it into an important city, with a canal link to the Mediterranean Sea being constructed in 104 BC
Van Gogh painted many of his most famous paintings here including The Night Cafe, the Yellow Room, Starry Night Over the Rhone, and L'Arlésienne and it was while in Arles that he cut off his ear.
Route Map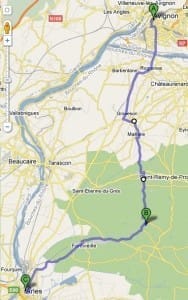 Photo Gallery