Date: Tuesday 5th July
Route: Argiliers to Carcassonne
Distance: 60km
Staying: Campeole la Cite
Blog Post: Argeliers – Carcassonne
Comments: Carcassonne is a fortified French town in the Aude department, of which it is the prefecture, in the former province of Languedoc.
It is separated into the fortified Cité de Carcassonne and the more expansive lower city, the ville basse. Carcassone was founded by the Visigoths in the Golden Age.
The fortified city itself is essentially of concentric design with two outer walls with towers and barbicans to prevent attack by siege engines. The castle itself possesses its own draw bridge and ditch leading to a central keep.
Route Map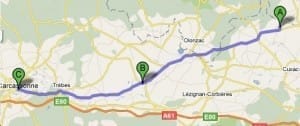 Photo Gallery