Date: Friday 8th July
Route: Bagnères-de-Bigorre to Loudes
Distance: 76 km
Staying: Camping Le Moulin du Monge
Blog Posts: The Col Du Tourmalet
Video: Col Du Tourmalet – Road to Hell
Comments: Col du Tourmalet (2,115 m / 6,939 ft) is the highest road in the central Pyrenees
Sainte-Marie-de-Campan is at the foot on the eastern side and the ski station La Mongie two-thirds of the way up. Luz-Saint-Sauveur is at the bottom of the western side.
The western side, from Luz-Saint-Sauveur, is 19 km long, climbing 1,404m at an average of 7.4 percent with a maximum of 10.2 near the summit. Starting from Sainte-Marie-de-Campan, the climb is 17.2 km, gaining 1,268m, an average 7.4 with a maximum of 10.
The Col du Tourmalet is one of the most famous climbs on the Tour de France. It has been included more than any other pass.
Route Map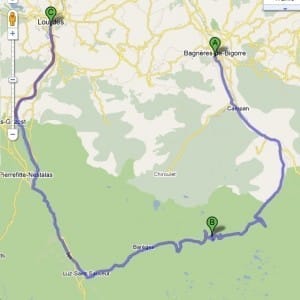 Photo Gallery