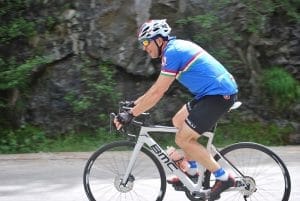 The journey here and yesterday's slog in the heat has left everyone a bit drained so we're having a recovery day (and also to rest everyone for the big one tomorrow…)
Of course Coxy's idea of a recovery day is slightly different to everyone else's!
We head out on the road to Briancon, the way to the start of the Galibier, which we've done before and will be again tomorrow but this time we turn off a few kms down the road onto the Col La Berard.
This route travels through a narrow steep sided gorge with a powerful white water torrent running through it and we all agree it's one of the most beautiful we've done.
Gradients are shallow for the first 10 km but then it seriously ramps up, as high as 11 percent in places and the heat is building again…
I wait half up this tough section to make sure everyone is ok lookin down on the spectacular valley down below.
(A little interlude here and you must promise not to tell anyone…ok?
It's at this point I need to answer a call of nature…a jimmy riddle… so I stand behind the van hidden from any cars on the road but I can still see (and be seen) across the gorge. I'm standing in front of a very small wall with a sheer drop on the otherside so, for reasons I can't now explain, I decide to fire over the wall and down… (It's a man thing, right?)
Anyway… right on mid flow a group of hikers emerge from the trees on the other side of the gorge, catch me in the act and start clapping and cheering and reaching for their cameras!
Now if any of those snaps ever appear on Facebook… or anywhere… remember it wasn't me… I don't do things like that I've never even been to France!)
Back to the story…)
Coxy gets to me first, followed by Roly and Ian with rest of the lads not too far behind…
We push on to the top and the gradients ease out again for the last 3 km which is a relief for everyone in this heat.
There's a great cafe at the the top so it's a well earned rest and some lunch. The talk now is of needing a recovery day to get over the recovery day!
Once we have recovered it's back down the same route and it's a really stunning decent back to the digs.
We're all just chilling now by the cabins and we're not going out! The campsite restaurant will do us for tonight as we need to be up early and on top form tomorrow… it's the big one… it's the Marmot!…
(Could be a late blog post tomorrow…)