Burgos is a large city with a massive town centre and we're right in the middle of it so a lively night is in prospect except after the day the lads had all we wanted was food. But it was Friday and the whole place was shut down. What with siestas and fiestas and Fridays off you wonder when anything gets done over here.
We find a few restaurants that are open but not until 9.00 pm. Totally different timescale for everything.
Up early in Burgos as the priority is to find a bike shop for Steve K. We find one on the Sat Nav that deals in the part and head out in the van with Steve and Coxy in the back. We arrive at the bike shop in good time for opening at 9.30 but the guy doesn't turn up till 10.00am. They call it manyana… we call it something else.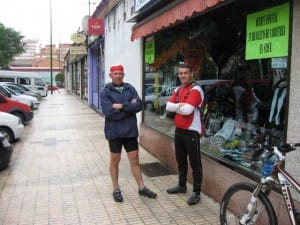 Eventually the bike gets fixed and credit to the guy as he really knew his stuff and fixed up Steve's bike like new.
As the pair are now way behind the rest of the team I offer to give them a lift to the next village. Not happening… these hardcore pilgrims want to get back to the exact start point of the route.
So I head off to the rendezvous point one at Castrojeriz. We later learn that Steve and Coxy had to take a 17 mile detour to get out of Burgos. Having driven out of this major city myself I can well understand how this can happen. Without the Sat Nav I would never have got out and would have been driving round all day.
Thankfully, this leg of the journey is much easier than yesterday and the lads all arrive at Castrojeriz in good time for lunch. Except everywhere is shut again! We eventually find an open restaurant for more ham and cheese sandwiches.
Andy has come a bit of a cropper at this point as he now has no breaks and is using his bike shoes to slow down. Mountain biking with no breaks really is hardcore.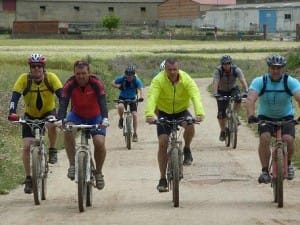 No sign of Coxy and Steve K so we press on to Carrion. This is long journey today, 59 miles and there's an England game so it's heads down to batter down the remaining miles.
At the next meeting spot, we have the usual call between me and Billy….
'I'm here at the Church'…
'We're here at the Church with the horse on top'…
'Well mine's got a great big tower with bells on'… etc.
The guys don't actually need me so it's on to the Hotel. Still no sign of Coxy and Steve K…
The Hotel is even more impressive than the others….
It's a converted monastery and very plush on the edge of town. The lads arrive in good time around 5.30. 10 minutes later a call comes in from Steve K and they have reached Carrion! That's some going… no breaks and Mars Bars on the move.
But the plush surroundings are not a priority for the lads when England are playing. You know the result by now… first 20 minutes we were world class and Steve Gerrard looked like he was the new Cruyff, complete with the turn!
Then a bloomer by Green and Capello goes all defensive. Looks like we are doing it the hard way as usual.