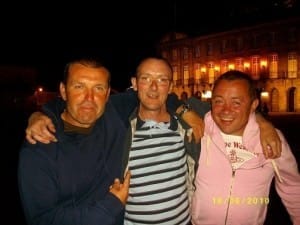 The final leg…
An early start sees us head back to Portamirin from the Hotel for the start of the final leg. What adventures will we have today?
I head for the meeting point at Melide on the roads that appear to be designed more like a race track. I don't go fast as I don't know what's around the next bend.
Then I see a lorry behind me and he's shifting… lights on and closing fast… I accelerate… so does he… I've got him on the uphills… he's got me on the down. The dual continues and I break away on the uphill to Mailda and park up.
As I type this… the lorry has pulled in beside me… I can't see him… I see the door open on the far side and out he gets… all I can see are his boots under the lorry… and he walks…
I'm not worried. He doesn't know what's coming behind me!
We had a couple of crossed lines at the meeting points today but eventually all meet up in a small village outside Santiago.
It's now a last sprint to the finish…