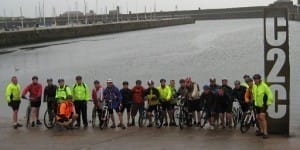 The journey over to Whitehaven in the vans was predictably through heavy rain and mist. This was not to be a pleasant sunny ride for the lads on Day One.
We all set off from Whitehaven at 9.00am for the first rendezvous at Cockermouth with an expectation that, with the wind behind them, this stage would take about an hour and half.
It only took me half an hour in the van, so time to stock up on bacon butties.
Coxy & Steve K arrived more or less on schedule but after that the lads arrived in dribs and drabs. A few wrong turnings piled on the miles. This is a new route for the lads and it's badly signposted for the riders.
All the lads stock up on bacon butties except for Steve Johno and John Mett who had brought a couple of whole chickens with them!
It's 12.30 before I leave Cockermouth and no sign at all of Wagga and Gary C. I have to assume they have taken an alternative route and I must press on to the next rendezvous at Hesket Newmarket.
I arrive a good hour before the lads are likely to get here so I retire to the pub for a lemonade (honest!).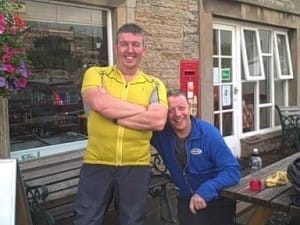 A blur of yellow flashes past the window and I dive out to see none other than Johnny G as the first one in! Well done big fella!
As the rest arrives it transpires the signposting was even worse on this section and this time Spenna and Chaz fail to show!
Meanwhile Stoz is having major puncture problems and will need a bike shop in Carlisle.
On to Carlisle where I find Spenna and Chaz already booked in to the hotel and camped in the pub opposite.
Eventually everyone arrives at the Hotel, the Cumbria Park, soaked to the skin.
Everyone that is except Wagga and Gary!!
I check with reception… the lady says ALL have arrived… then how come I've got two spare holdalls in our room! The plot thickens…
I'm sharing with Johnny G tonight, so it's the first round of the national snoring competition.