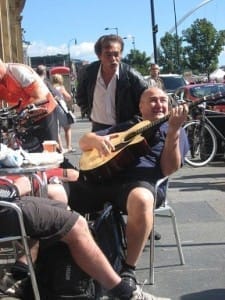 The final day and the weather is great again. Hot and sunny, perfect for the lads journey from Hexham and along the banks of the Tyne through Newcastle to North Shields. From there it's a short hop over on the ferry to South Shields and the finish line.
It's a very short journey for me to the finish and I arrive just after 10.00. Nothing to do but sit on the cliff top in the hot sun and watch the boats go by.
The lads have a fantastic run along cycle tracks that border the river into Newcastle and the quayside area. All stop for refreshments at the riverside cafes. Stoz strikes up a song, though where he'd been hiding that guitar is anyone's guess!
It's at this point that a certain rumour starts to gather momentum…
You'll recall I mentioned yesterday that there was a football pitch next to our hotel in Hexham. Well, it also had a running track going round it. Apparently a few of the lads decided to go for a sprint round the track. This was after 2.30 in the morning… so it was pitch black and the lads were by now past peak performance levels.
Anyway, the word is, the lads had decided that the only way to meet this challenge was to do it starkers! Apparently it was a sight to behold. I was safely tucked up in bed at this point so I'm still trying to find out who the culprits were… are there any photos… and who won! I'll let you know when our naturist sprinters own up.
It's about 1.00pm when the first group arrive from the ferry with everyone arriving shortly after.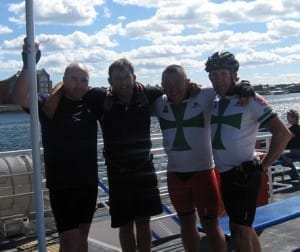 Great just in time for the Boro match!
Into the pub where the locals are just settling in for the Newcastle game. 'Ow chor… get the Boro game on gadge' shouts Johnny G.
That woke the place up.
The locals are really friendly but I'll never get used to being called 'Bonny Lad' by a fella.
As we wait for the coach to pick up the lads everyone swaps stories about the weekend and all agree it has been one of the best trips ever. And it really has gone without a hitch. Apart from the rain on Friday, the weather has been good, the ride challenging and some great laughs along the route.
A big well done to Coxy for organising the whole trip!