I got a call from Billy yesterday while I was waiting at the hotel in Sete. We're just passing "the lakes" and not far from Sete.
I'd passed these lakes myself and knew they would arrive in about an hour so I settled in to update the blog. This was at 4.00pm but the lads didn't arrive until gone 6.00pm.
Turns out they turned left instead of right and ended up actually on the beach.
Except this was no ordinary beach… it was a nudist beach!
Talk about a bit of a distraction.
Of course one of the lads had to get into the spirit of things…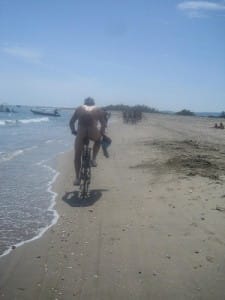 Not saying who it is….