Barnard Castle to Saltburn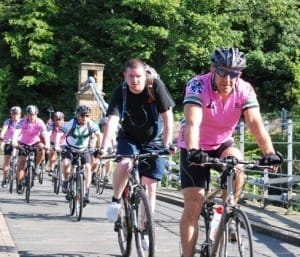 We all assemble in the square at Barnard Castle ready for the off at 9.30. All except Johnny G (who only arrived yesterday to pick up the final leg).
John has overslept…
But we've got to crack on to Whorlton where there is a photo opportunity on the rickety bridge.
Rickety isn't the word for it. This thing shakes when a car goes over it and there is only one car allowed on it at any one time.
Bit hairy in the van. I catch the lads and get some snaps then head back to Barnard Castle to get John.
He jumps in the van with me to the first meeting point at Hurworth.
The lads arrive and after a quick snack head on to Great Ayton.
After that it's the fast downhill in to Saltburn and I race ahead to get parked and get on the steep bank at Saltburn to get more snaps.
I'll add more photos to the website over the next couple of days so look out for those.
Well done to the lads for another excellent effort!