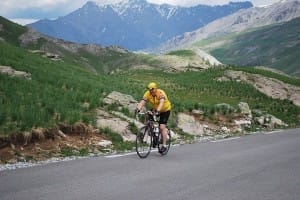 Today's challenge is the Col de la Bonette the highest mountain pass in Europe. And it's also Donkey Derby day!
That means we stop at the bottom of the Col and the riders set off at different times handicapped to allow the slower performers to finish at the top ahead.
I'll give the starting order on the results post next up.
It's a brutal climb up for the lads but great for me as I chase them up and pick them off one by one finally reaching the current leader 8km from the summit. As the following riders pass me here I can give them the time they are still behind the leader and the chase is on.
We are all hampered on the way up by the vintage Porche Humbol car rally chasing up to the top at stupid and dangerous speeds. Sure it looks impressive but someone could easily get killed. (The 'W' word springs to mind.)
When I arrive at the top three riders are already there and there are some surprises! I know you're dying to know who won but I'll pop that on here next.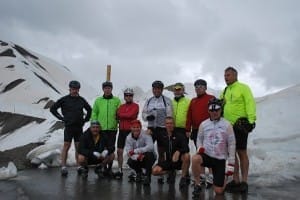 As we get to the top we are disappointed to find the last 1km loop is still closed with snow. We can still continue our route as this loop if effectively a right turn so we can head down to the left.
The snow ploughs have been through and there are walls of snow to pass through and just below the summit we find half the road blocked by a recent avalanche and I can only just squeeze past in the van. What if that happens again as we are going passed!
Once we clear the snow line it's another breathtaking descent as we hammer down pursued by the sport cars…
But the day isn't over as there's another smaller climb up to the ski resort of Auron. A tough and exciting day and the lads are tired. But tomorrow it's down hill all the way to Nice and the Cote d'Azur…
We also got a bonus tonight as our mate Terry Maglyn drove over with a mate to meet us from Italy. And he brought his guitar so we had good night entertaining the locals…