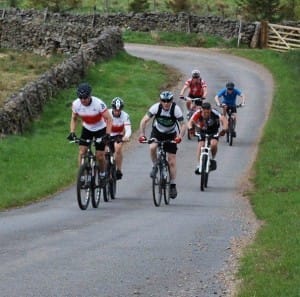 This bank holiday's bike trip was an expedition to find the source of the Steel River high up in the Pennines at Cross Fell. Only one problem… there's no road up there and no bike track either…
We set off in the cars early Sunday morning to head over to the camp site near Temple Sowerby which will be our base. For once the weather is glorious, clear blue skies and warm sunshine and after pitching the tents the lads set off towards Knock and Great Dun Fell.
This was the route we tackled earlier this month so we knew what to expect. Except the last time the lads tackled the climb on road bikes, this time it's the much heavier mountain bikes and all the lads found the going very tough up to the summit of Great Dun Fell. At least we could actually see the famous Golf Ball early warning station this time. I can go no further in the car and so head back down to see if I can find a pub to meet up with the lads later.
The route across from Great Dun Fell is off-road to say the least. It's actually part of the Pennine Way and is very rough and boulder strewn. The lads struggle across with a combination or riding and carrying their bikes to the summit of Cross Fell, the highest point hereabouts.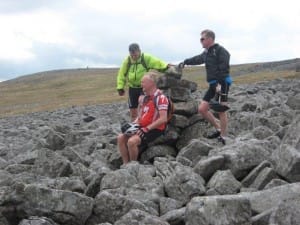 No sign of any streams that might indicate the start of the Tees but a pile of stones a little way down from the summit marks the start of the Steel River. Job done… now for the descent!
I am already down but can find no suitable meeting place in any of the small villages marked on the map at the base of Cross Fell so I end up back in Temple Sowerby to await news of the descent.
It 's not long before the call comes in and I need to head back over to the village of Kirkland to pick up Roly whose intermediate tyres were not up to the job of the brutal decent of Cross Fell. Multiple punctures forced him out and we head back to the camp site after a beer to meet up with the lads. All were a bit bruised and battered from several spectacular falls on the way down.
We had a good night in Temple Sowerby at the Kings Arms but were still up and away and back in the Boro by 8:30am Monday morning. Yep, we really were up that early!