Middlesbrough to Chaumont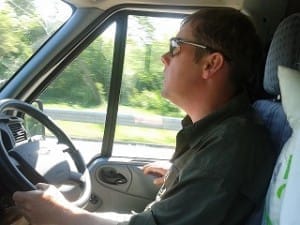 We start early at 6.00am for the long haul over to France in good weather. Fairly uneventful trip down apart from a quick detour to grab a kettle for much needed brew ups for lads when the ride starts.
We sail through Eurotunnel and are even put on an earlier train so that's a good omen. Half an hour later we are in France and the temperature starts to climb as we hammer down towards Reims. One dodgy moment as a car and caravan overtake a lorry and get caught in the back draft and get a major wobble on.
We make good progress and stop at Chaumont a lovely French village midway between Troyes and Dijon.
Great Hotel , the Hotel de France, right near the main square and complete with underground parking, sweet.
After a great meal we join the locals in Karaoke. Yes, the French drinking and enjoying themselves, it's like being in the Cora….. not!