Le Grand Bornand – Bourg St Maurice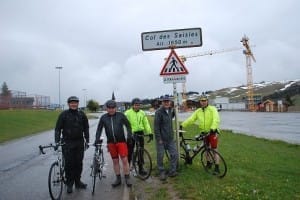 It was raining when we pitched the tents last night and it's raining again this morning as we brew up for breakfast. We've got a sheltered spot under the roof of a nearby ski lodge so morning tea goes down well. We load the van and head for the square to meet up with hoteliers and then head to La Clusaz for the start of the first climb up the Col des Aravis.
It's a good steady climb for the lads but a risky descent in the wet conditions. At least it's not as cold up there as yesterday but the lads can get some dry gear as we meet in Flumet.
I then follow behind the lads to the start of the next climb up the Col des Saises. But the road to the start is closed! All barriered off and no way through for me. I call Steve D back so he can warn the lads I might not be able to make it and we try and figure a way around but there is no alternative route.
So… we just moved the barriers and I sneak through… it's only road works but I get some black looks from the road gang as I drive over their newly laid tarmac.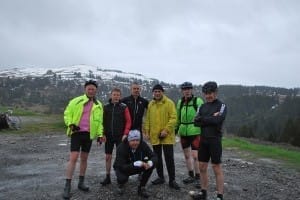 It's a climb with a difference up to Les Saisies as there is an unexpected fast descent in the middle. We regroup at the summit and the lads change again for the long and spectacular descent to Beaufort… and that's when our problems really begin…
The next climb today is the big one, up the Cormet de Roseland, 6500 ft. But it's closed and not for road works. The pass is blocked with 4 meters of snow and there's no way we can get through. We debate what to do and Coxy wants to press on regardless and yomp over the top carrying the bikes.
But we decide on the safer option, after consulting with the local tourist information office and have no choice but to get a minibus to take the lads and the bikes to our next destination in Bourg St Maurice. It's a bitter blow and means we leave with unfinished business.
More bad news awaits us though as we find that the pass for tomorrows climb, the Col de Iseran, past Val d'Isere is also closed. They've had a bad winter over here and many passes are still under metres of snow. So, it's going to be another shuttle job tomorrow…