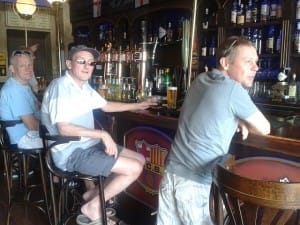 Here we are at the 'winter' training camp in Puerto Pollenca. Quite a journey to get here. We set off this morning from the Boro at 2.00 am!
A hearty breakfast at Manchester at 5.00am lifts our energy levels and then it's a good flight to Palma. We're then on Spanish time and the long wait for the hire car is just beaten by the time it takes our bags to come through.
It's still all a bit early for me and I manage to leave my case behind as we exit the airport. Oops!
Could I get back in to get it? Not easily as I get a firm rejection from the formidable lady guarding the exit from the baggage area. We have to get the local plod involved and I manage to retrieve my case. Could have been a total disaster and I'm obviously now the butt of all the wind ups.
Happily, Ade is driving the hire car and we quickly get to the apartments in Pollenca. They are great and we drop off our stuff and head for the bike shop. Closed of course, this being siesta time so we decide to check out the local bars.
Result!! Sports bar on the front with the Man City v Everton game on and some rocking tunes, Stones, Animals, Oasis, etc….
Back at the apartment now chilling. We'll head back to the bike shop this evening and then sample some more of the local culture.
We've already spotted our evening meal venue….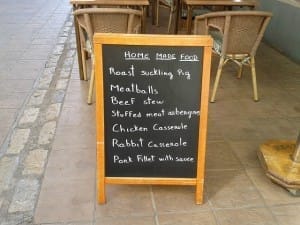 Are you jealous Johnny G??!!