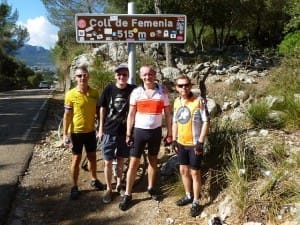 We manage an earlier start today and the lads are retreading yesterday's route up to the top of the Coll de Femenia only this time we are pushing on down to Sa Colobra itself.
It's another hot sunny day and it's another tough slog up to the top of the Coll but this is just the warm up. We meet at a cafe that we think marks the start of the long descent into Sa Colobra. From here we can see a road snaking even higher up in the distance and we assume that's the road back toward Palma. But of course it turns out to be our route so up we climb.
The view from the top is breathtaking and we pause before beginning the decent. Hairy is not the word! Very Alpine with multiple switch backs made harder by the quite heavy traffic.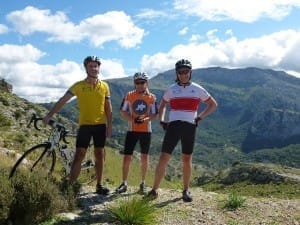 I for one am very relieved to get down in one piece. I've driven roads like this before but never sitting on the left side of the car, it's hard to judge your distance from the big drops on the right hand side.
We stop for lunch in Sa Colobra and then the real work begins for the lads as there's no way out of here but back up to the summit.
But the lads fitness is good and they make really good progress getting up there in around an hour. We then set off on the long steady decent back to base. A good 65 miles in total and another good workout.