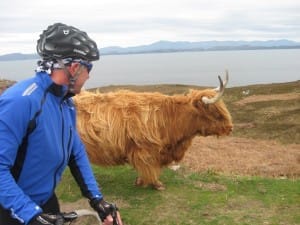 The lads have been in training hard for this year's trip to Bormio, Italy next month.
Coxy and Steve K spent the bank holiday weekend in Scotland.
The Bealach Na Ba is reckoned to be the hardest climb in the UK even harder than Hardknott Pass ! Together with Steve Keenan we set off on a 46 mile loop around the the Applecross peninsula, this is arguably the most remote road on mainland Britain.
We stop at Sheildaig for a coffee before pushing on to the start of the climb which is 6.4 miles straight up ! The first 4 miles aren't to difficult and we make good time but then we hit a long steep ramp that has us reaching for our lowest gears, this section seemed to take forever and never dropped below 15%, finally we reached the switchbacks and a little recovery on the corners, this section isn't to bad and we pick up speed as the gradient eases off and head for the summit. This is a spectacular climb but not as tough as Hardknott pass, the view from the top of Skye and the surrounding mountains is second to none.