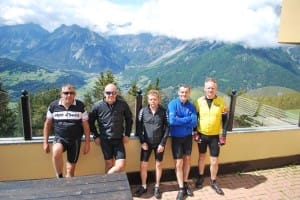 It's the morning after the night before… We're gonna score one more than you…except we didn't… they did…
We're still in the mix. Bring on Uruguay on Thursday…
A late night though in the site bar, which was kept specially open for us and this thankfully means Coxy has only an afternoon jolly planned up the Bormio 2000.
But things don't look good as we awake to heavy rain and much colder temperatures. If it's wet and cold down here it will be much worse at 2000 metres. The local Spa is starting to temp some of the lads but by lunch time the weather has cleared and the sun is starting to make a welcome appearance.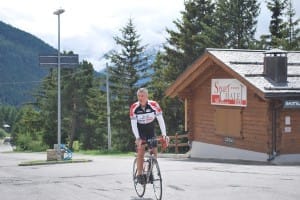 The start of the climb is in Bormio itself but we have a heck of a job finding it, even heading a kilometre or so up what turns out to be a dead end.
I'm now following behind the lads as we search for the start. Coxy finds it ok but the rest of us are a hundred yards behind him and again miss the turn off. We eventually find it and began the chase up after him.
It's a short climb and nothing like as steep as yesterday's passes. Similar in fact to the French Cols we have tackled in previous years but shorter.
The view from the Sky Lift station at the top is mind blowing and we linger over coffees taking it in.
The descent is going to be spectacular spiced up by Coxy's challenge that the last one down is raging *******!
There's no way I'm going to catch them so I'm surprised to see them pulled over about a third of the way down.
Johnno had taken the challenge too seriously and took a corner too fast, collided with a barrier and come a cropper. Just minor cuts and bruises so he's OK. More importantly there's no damage to his bike!