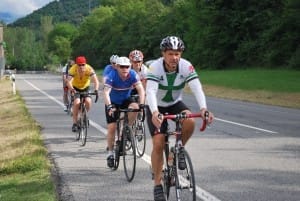 As we wind down the really hard cycling on the home stretch to Barcelona we nevertheless have now to avoid the seriously long tunnels that begin after Ripoll around the town of Vic. This means some long detours along tricky routes with many places where things could go wrong.
So Johnny G takes one for the team and gets in the van from the off. We just can't have the lads too spread out along the long route or someone would get lost again (from now on known as doing a Norris from the blooper the other day.)
John and I head off ahead and plan to stay at each significant turn off on route, the lads can then regroup and go on while we race to the next one.
It's smooth sailing but these roads are much tougher and lumpier than the main route so there are many small climbs and descents. Johnny and I have time for a brew before Alpens and when the lads arrive they can also share a cuppa.
We stop for lunch in Olost and remarkably no one is actually lost so we're making progress!
More variable torrain awaits us between there and Moia and at one stopping point we are startled by very strange loud animal noises from the woods behind us. I've never heard anything like it, really quite disturbing. We conclude they must be wild boars or as Johnny said… "wild?…they must be bloomin FURIOUS!!"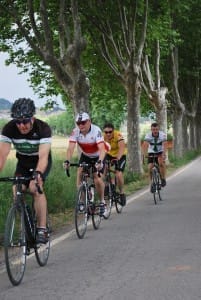 More variable terrain awaits us on the road to Moia before we descend to Sant Quirze and the camp site. Only problem is it's closed so we have no choice but to press on to Caldes de Montbui where we find a decent site.
It's been a long day and we can't be bothered to head out again, so it's a supermarket run for beers and eats and we stay round the camp fire tonight. Hope those boars don't turn up!
Tomorrow….Barcelona!!!