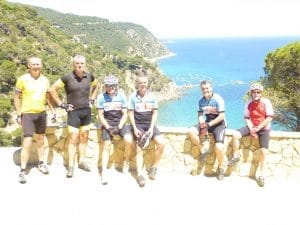 We're south east bound today down to the coast close to Tossa de Mar and then along the coast road to Sant Feliu and it looks relatively simple on the map. What could go wrong today…
We head to the first meet at Llagostera where we hope to pick up the B road that's between the main roads down to Tossa de Mar and Sant Feliu. There's a small town at summit of this climb called Sant Grau so just put that in the sat nav, right?
Except the sat nav won't locate the place. Here we go… So I end up on the main road to Tossa de Mar hoping to get there, go along the coast and then get back up the road from the other end and meet the lads coming down.
I wait on the coast road at the junction where the lads should be coming out but there's still no sign after an hour. Turns out the lads also got lost around Llagostera, ended up briefly on the motorway before finding a cycle path that takes them into Sant Feliu.
I get the call and head to meet them for lunch at a beach side restaurant in S'Agaro next to Sant Feliu. But where's Howard!?
He was behind the lads coming into Llagostera but took the right route past Sant Grau and down to the coast. But he's now on his own with no water and he's had a minor crash (don't worry he's fine) .
So I head back to meet him while the lads follow behind along the coast road so they can complete the loop backwards! (Hope you're keeping up at the back there!!??)
Anyway it's spectacular run along the coast with several decent climbs and descents and we meet at the junction to Sant Grau. This is quite a tough little climb made harder by the intense heat but we're soon over the top and then its downhill and then flat back to the digs.
It's another night locally tonight and Spenna is again the chef. Salt cured Hake with pasta!…