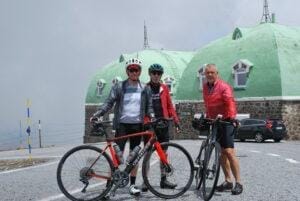 Today's the day of the big climb up the Pico Veleta, the highest road in Europe which reaches an altitude of 3300 meters.
It's a straightforward route out of Granada on the A395 but it's all uphill for 37 kms once the climb starts so it's a case of getting as far up as the lads feel able.
If any one reaches their limit they can simply stop and turn around back down to the digs. How far will they each get and how high?
We set off at 9.30am after breaky but first Coxy and I have to find a bike shop to get him some new cycling shoes. The bike trip is not the bike trip until we've done our customary tour of the local bike shops!
Remarkably, given our track record at this, we easily find the bike shop, can park right outside and they have suitable shoes! This has never happened before, not this easily.
So, we crack on and chase the lads up the climb, catching them all before the cafe we stopped at on the first ride and then wait for them to come up.
Roly, Spenna and Marty are the first to get to us having enjoyed a tough but steady climb to this point. Ade and Steve aren't too far behind but John is now a long way back and we think that this will be his summit.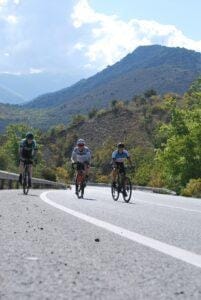 We're only halfway so the lads push on and and Coxy and I follow in the van to the ski resort of Sierra Nevada. Some of the sections up to it are not so steep so the lads make good time.
We had hoped to get some lunch here but as it's out of season, everywhere is closed.
The next section is the Hoya del la Mora and this is the road that goes round behind and then above the ski resort and this is the highest paved road in Europe.
We know, in the van, that we won't be able to get to the very top, as it's barriered off but we're going to go as far as we can.
We drive up and eventually meet the barrier and park up next to it to wait for the lads to get up.
Who will be king of the hill?
It's only bloody Marty isn't it. Sacked as leader yesterday but now No. 1 on the leaderboard!
Spenna isn't far behind and this duo decide to push on for the snow capped summit.
Roly is next up and also decides to push on as far as he feels able. Then Ade is next and he does the same.
Not long after a police car comes down from the top and he opens the barrier so he can head down.
He then tells us we can't park here and have to go back down to a car park half a mile further down.
There's nobody here and nothing is open so what's the big deal?!
Anyway, as he was very polite, we comply and head down to wait for the lads to come back down. How far will they each get?
We now hear from John and he's reached the garage just before the cafe and he's done and so he heads back down to the digs.
Coxy and I wait near the barrier with some trepidation for the lads high above as the cloud has come down and thunder rumbles in the distance… and it starts raining…
After about an hour we here from Marty and Spenna who have actually climbed above the clouds into sunshine. But, the road up there is terribly rough, it's freezing cold and they are surrounded by snow. But they are still pushing on…
Shortly after Roly comes back down and then Ade who both passed the 3000 meter altitude marker before descending.
For Marty and Spenna the road just gets too bad and the weather again looks more threatening so they also turn back just shy of the summit.
A fantastic effort from the lads today!
And we all feel for Paul who wasn't able to tackle the ride today. He's put so much effort into planning the trip and wanted to do this climb in particular. Sadly, it remains on his to-do list.
It's a great descent back down for the lads and we make good progess back to the digs with no mishaps which certainly makes a welcome change!