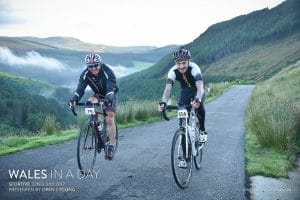 In July a couple of the Coastbusters, Paul Coxon and Martin Russell took on the Wales in Day challenge. A mammoth undertaking! Paul tells the story….
Next up after our trip to the Dolomites was Wales in a day, a 185 mile sportive starting in Caernarfon Castle and finishing in Chepstow with some 17,000 plus feet of climbing.
Myself and Marty along with Peter Millward set off on Friday afternoon for the 4 hour drive to Caernarfon, the weather was gloomy with heavy showers all the way across, the forecast for the following day wasn't much better so the mood was pensive to say the least.
We arrive and get checked into our digs then off to registration to collect our numbers, transponders etc, nip into town for a bite to eat and a couple of pints then bed as were up at 3am for a 4am depart.
We meet at Caernarfon castle at 3:45am and there is already a queue, some 30-40 cyclists all gathered in the dark at the rear of the castle, seems everyone has the same idea to be away as early as possible, at this point the weather isn't as bad as forecast as we enter the castle for the start.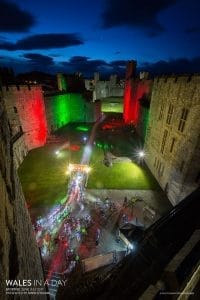 The set up inside the castle is spectacular and you get the feeling that you are going to be part of something big, at the start line your wrist band is scanned and off you go, rolling through the courtyard and down the ramp of the castle and into the streets of Caernarfon in pitch darkness.
The three of us take it easy for a few miles as we make our way out of town towards the mountains of Snowdonia. Marty & Peter were planning to ride together while I had other ideas, a group from Conwy sped passed us and I latched onto the back of them for a free ride towards the first big climb, Pen y pas.
As soon as we started to climb I dropped all but one of the group, we both ascended together chatting as we crested the summit then a big descent followed, daylight was now starting to break through the darkness, the Welsh lad pulled over to wait for his group so I wished him well and made my way towards the first of five feed stations, as the first feed was only 26 miles in I decided not to stop but push on over the Penmachno pass towards Balla where the second feed station was situated.
During the climb a lad from Devon came up behind me and we rode together to Balla, at the second feed I pulled in to fill up my water bottle and grab some food, I had planned to spend no longer than 15 minutes at the feed stations but the lad from Devon was on a mission of his own and didn't stop but pushed on to the third feed, we wished each other a good day and off he went.
As I left the feed station I started to feel good as the air warmed up and I pushed on alone through miles and miles of forest road undulating all the way, the climbs weren't tough but there were plenty of them, I was keeping above my planned average speed of 15 mph and not pushing to hard at this point, things were going well.
At the third feed there were 5 or 6 riders who all seemed to be in a hurry to get in and out as quick as possible, I stuck to my 15 minute plan, leaving the feed station I was told by one of the officials I had 98 miles to go, a daunting thought but I was feeling good so I just focused on getting to the next feed.
I passed a couple of riders between feed 3-4 and when I pulled into 4 only two riders were in front on me. During my stop the riders who I had passed pulled in and quickly refuelled and were off before I had finished my coffee.
Between feed 4&5 the big hills of the day await, the route took us through the Brecon Beacons and soon after the feed 4 I hit the steepest climb of the day, I passed a rider walking his bike up this section but it was no problem to me as the North Yorkshire moors are much steeper than these hills.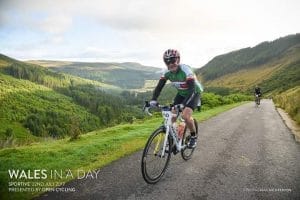 Once over the top of this particular hill I was heading downhill fast on a narrow wet gravely track when I spotted a cattle grid, to late to slow down as breaking wasn't an option on this surface I tried to bunny hop over it but got it wrong and landed on it blowing my front tyre. I managed to stop safely and put another tube in as I set off I hadn't realised that my rear tyre was down also!
This cost me 20 minutes or so and three riders passed me during my frantic tyre changes. Once mobile I set off at a pace and caught one within a few minutes, we were now on Gospel pass, the highest road in Wales and 5 miles long. The rain started to come down heavy at this point but not a problem when your going uphill, I pass another rider just before the summit and we chat all the way down a long narrow treacherous descent.
As soon as were at the bottom of Gospel pass I push on hard to the 5th and final feed station, in and out as quick I can, only 29 miles to the finish and my legs are still feeling good, there are three riders in front of me and I'm going all out to catch the 3rd.
A big sign post stating "10 miles to the finish" is a welcome sight but there is a 4 mile climb to get over which I manage then its all down hill to Chepstow but there is a sting in the tale, the finish is located at a big school named St John's on the hill!
Through Chepstow I sped over the river Wye then up a 300 metre long hill to the finish line.
There is a big welcome party with officials and families waiting for their friends on the ride. I climb gingerly off my bike and chat with the three lads who had already finished, were all pretty cooked as we watch the rest of the 400 participants cross the line over the next few hours.
Marty & Peter finish comfortably sticking to their plan in taking it steady as not to blow up half way through a long day.
This was our longest ride to date and was thoroughly enjoyed by us all, what next I wonder ?
Gallery
Click on the image below to open the Gallery.