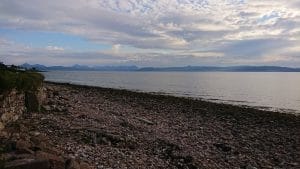 Forgot to mention yesterday that Applecross looks across the water to the Isle of Skye and it's no wonder songs are written about it and legends are made.
Amongst an already remarkable background it stands out… black jagged peaks, there must be thirty or more, sillouetted against the skyline.
Sat outside the Applecross Inn last night all you can do is gaze in wonder as the sun sets to our right with that dark forboding island to our left.
We had a great first day and a good night in the Inn. Food was brilliant as was the company but it was another early one (for us) as last orders was at 10:15. A whisky under the stars anyone?…
Probably not as we've discovered that the legendary Scottish midges are for real and they drive you nuts. Unlike ours they don't go for the legs and ankles but go straight for your face and hair. Some of the lads planned ahead and got head nets which we'll all try and get today.
Under canvas I heard the rain in the night and as I type this, this morning it's grey drizzly and quite cold. It might brighten up by the time we set off on today's ride but even if it doesn't it will no doubt be a good one. Hotel tonight anyway…
BTW. I had no phone signal here and only got yesterday's post up by breaking all the social distance rules in the pub. Things may not get better where we are going but I'll do my best to keep you updated…