Kranjska Gora to Ljubljana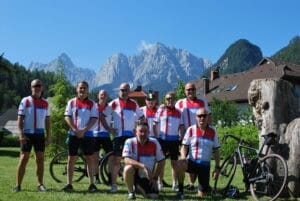 We had a lively night in Kranjska Gora last night. A great pub with excellent beer and music. It wasn't a very late one though but we can still sleep in as we're not setting off until 10 am this morning.
Today's ride is up to the summit of the Vrsic pass which is Slovenia's highest mountain pass at just over 1600m.
We set off in bright sunshine and we know this is going to be a hot one.
The pass itself is very tough and steep with cobbled sections at every hairpin. It's also very busy with other cyclists, motorbikes, loads of cars and hikers.
I stopped at halfway but soon found that the batteries in the camera were all out of charge so no point waiting for the lads so I push on to the summit. It's bedlam up here but I manage to find a spot to park and wait for the lads.
It's not long before Coxy gets up with the rest of the lads getting up within an hour. The views from the summit are spectacular and well worth the effort.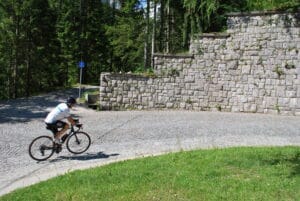 The lads descend and make their way to Lake Bled. They are going via a bike path so I can't follow and meet them there for lunch. It's a lovely spot but time is getting on. It's now 3.30pm and there's still 60km to go.
Again the lads are on a bike path so I go straight to the hotel. I'm early so I think, great, I can do the blog. Except I can't get the back of the van open. Some bags have shifted and blocked the door mechanism!
The lads arrive between 6 and 7pm and we're now out having a beer and a late meal.