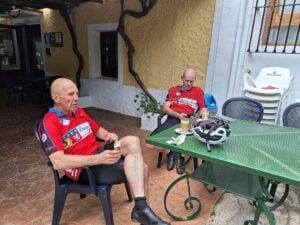 As we're staying for two nights here at the hostel Coxy has done us another loop route round to El Turro and back.
There are several routes up there so by comparing his route on a Garmin and my roadmap we conclude that I should head to Agron first and wait there.
Only Coxy and Rolly are doing the ride today. The hostel has a spar pool which proves too tempting for the rest of the lads!
We set off at 11.15 but 200 meters down the road the lads turn off down a dirt track and obviously I can't follow so I push on through Alhama de Granada and off towards Agron.
I'll pick up their route at some point…
It's 25km to Agron and there are too tough climbs along the way and it takes me longer than I thought to get there. I've now convinced myself that I'm on the wrong route and that the cycle route wouldn't come this far east so I push on to El Turro.
I leave messages in our group chat what I'm doing but obviously the cyclists only pick these up when they stop and if the internet signal is good enough.
I have a bit of nightmare getting to El Turro on the roads the sat nav takes me down which are badly pot holed, rough and just dirt tracks but I get there eventually.
Just as I get there I get a call from Coxy who's in Agron wondering where I am! Oops!!
Anyway, to cut a long story short, the lads are just gonna turn around and return to the digs and I do the same.
When I get back to the digs the Spa lads are just leaving for Alhama town which is 3.5km away.
Coxy and Roly get back within half an hour and are going to follow the lads into town after they have had a rest-up and get changed.