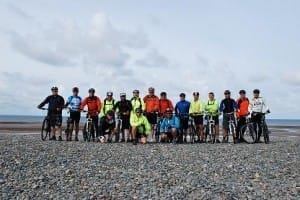 After an uneventful trip by van and coach from Middlesbrough we arrived at Walney Island at around 10.00am. The weather was quite cloudy and chilly at the start but it picked up during the day.
First stop was Ulverston, a 13 mile ride for the lads through picturesque scenery and woodland. For some reason, best known to the Sat Nav, I went the coastal route and managed to miss the lads at the first stopping point. Not a good start.
On then to Grange-Over-Sands over some fairly tough climbs for the lads and some very tight single track lanes for me. Glad there was nothing coming the other way.
All the lads arrive within about half an hour of each other with and we link up after a bit of the usual searching for each other.
That is' all except Dean. No sign of him at Grange and no-one had seen him for a while on the route. We're in Grange for around a hour for lunch and still no sign of him.
Johnno gives him a bell and he's only in Kendal already! Yellow Jersey for Dean? I think there will be stewards enquiry in the pub later.
We meet again at Matland, a tiny village just outside Kendal and then I follow the lads into the digs. We're staying in four separate places, two pubs and two B & Bs but they are all pretty close so we'll rendezvous later this evening.
A tough day ahead tomorrow including the dreaded Tan Hill.