Newcastle to Middlesbrough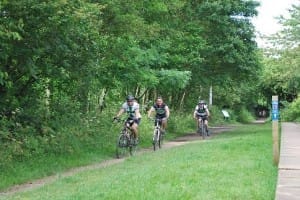 After a lively night in the Toon the lads are hoping for an easy run back to the Boro today but that's not how Coxy plans these trips.
Instead of going straight back the lads are going via Consett and then Durham so I head off for the rendezvous. There's an incredibly steep and long hill on the approach to Consett and as I arrive I pass some of the lads struggling to the top.
After a brief pause for coffee we then set off for Durham where we say goodbye to Bonner and Mitch who are catching the 1.30pm train back down South. They've had a great time and will be missed on the final leg. No doubt they'll be back for more punishment next year.
A combination of that hill at Consett and the cumulation of 4 days hard riding means the lads are now strung out over a few hours and we wait in Durham for the bulk to arrive.
We pass the time listening to the local jazz bands who are out in force near the Gala Theater. They are a bit loud for some nursing headaches from the rigours of our night in Newcastle!
The faster crowd move on to the next meet at Thorpe Thewles and I meet them there, the plan being for the whole party to regroup for the final ride into the Boro.
But it's not going to happen… after waiting over an hour we crack on and hit the Transporter Bridge for the final photo shoot.
Another cracking trip and a great effort by all the riders.
WELL DONE LADS!