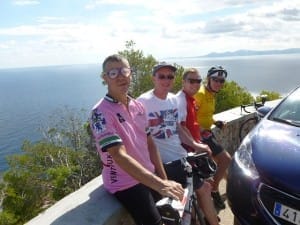 A leisurely ride around the bay to Cap de Formentor today or so we thought…
Coming out of Pollenca it's flat and dull but then the lads hit a big climb in the oppressive heat as we again hit switch-backs.
Over the top and then down the spectacular descent to Formentor along the most beautiful road I've driven. The sea is way below to my left and I have sheer cliff faces on my right. But this if just the start and there is more climbing to come and another thrilling descent. There's even a Tunnel of Doom…
As I get near Cap de Formentor the weight of traffic slows me up. The light house is the end of the road and everybody and his dog has decided to come here today.
As I get closer I manage to sneak into a space but then a huge farce begins as the road narrows and nobody can get up or down.
A very canny Spanish bus driver takes control and manages to get us all moving again and I head back down to base leaving the lads who are going to then come back and go on to Alcudia.
We return the bikes tonight so winter training is at an end. It's been a brilliant trip and we've still got the whole today tomorrow for sight seeing. Back again in March or April? It's looking likely….